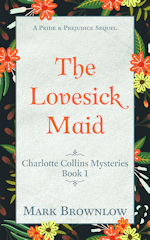 Publisher:

Lost Opinions e.U.

Available in:

Kindle and Kindle Unlimited

ISBN:

978-3-903230-02-6
Mark's author page at Amazon
Mark's author page at Goodreads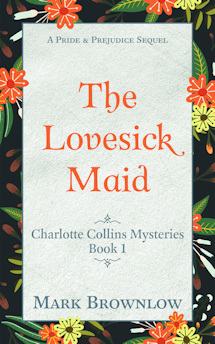 Join Charlotte Collins in a mystery novella as she tackles the troubles of the Hunsford villagers.
"I loved this little gem." 5-star review at Amazon
"The writing is wonderful." 5-star review at Goodreads
"This was an absolute joy to read." 5-star review at Goodreads
"…had me hooked from the first paragraph…" 5-star review at Amazon
Kindle and Kindle Unlimited: Amazon.com | .co.uk etc.
Goodreads: Book page
One of the maids at Rosings Park is sick. But is there more to Mary Booth's illness than a broken heart? Only Charlotte has enough wits about her to find the answer.
In this Pride and Prejudice sequel, Mark Brownlow brings Jane Austen's Hunsford and Rosings Park to life. Meet familiar characters like the lovelorn Anne de Bourgh, Colonel Fitzwilliam, Mr Collins and, of course, Lady Catherine. Discover new faces, too, as Charlotte searches for the truth.
A quick and enjoyable Regency read for a lazy afternoon with tea and biscuits. Be sure to discover Charlotte's next adventures, too: The Darcy Ring and The Hunsford Curse.