Publisher:

Lost Opinions e.U.

Available in:

Kindle and Kindle Unlimited

ISBN:

978-3-903230-08-8
Mark's author page at Amazon
Mark's author page at Goodreads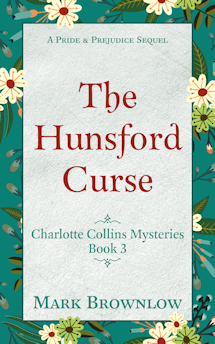 A series of accidents strikes the Rosings estate, but who (or what) is to blame?
"THIS SERIES IS FABULOUS" 5-star review at Amazon.com
"Beautifully and skilfully written story" 5-star review at Amazon.co.uk
Kindle and Kindle Unlimited: USA | UK | Canada | Australia (and all Amazons)
Goodreads: Book page
As uncertainty spreads, a guest seizes his chance to press a claim that might cost Anne de Bourgh her chance at happiness.
Once again, it falls to Charlotte Collins to resolve matters. Though a new friendship has her questioning her judgment…
Mark Brownlow's cosy mystery novella blends wit and intrigue with a dash of romance. Return to the Regency era in a Pride and Prejudice sequel that keeps you guessing all the way to the end.
(The Hunsford Curse is a standalone story and also Book 3 of the Charlotte Collins Mysteries, which began with The Lovesick Maid and continued with The Darcy Ring.)