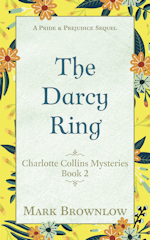 Publisher:

Lost Opinions e.U.

Available in:

Kindle and Kindle Unlimited

ISBN:

978-3-903230-03-3
Mark's author page at Amazon
Mark's author page at Goodreads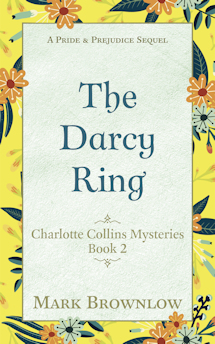 Charlotte Collins is reunited with Mr and Mrs Darcy in this mystery novella, but a theft at Rosings casts a shadow over the occasion.
"A quick, enjoyable read, highly recommended." 5-star review at Amazon.com
"Loved it!" 5-star review at Amazon.com
"Historical Mystery fans and Austenesque lovers alike should give this delightful, sparkly series a try." 5-star review at Amazon.com
"I sincerely hope there will be many more to come!" 5-star review at Amazon.com
Kindle and Kindle Unlimited: Amazon.com | .co.uk etc.
Goodreads: Book page
Blame for the crime soon falls on an obvious suspect, but is the allegation true? Needless to say, it's left to Charlotte to discover the truth, helped by her childhood friend and the local villagers.
Once again, Mark Brownlow brings Jane Austen's Hunsford and Rosings Park to life in this Pride and Prejudice sequel. Spend some time with Charlotte and the Darcys, the indomitable Lady Catherine, the inimitable Mr Collins, a troubled Colonel Fitzwilliam, an unpleasant newcomer, concerned servants, and curious villagers.
The Darcy Ring is a quick and enjoyable Regency read, best consumed with a cup of tea or a glass of wine, a packet of biscuits, and a comfy armchair.
(This is a standalone story and also Book 2 of the ongoing Charlotte Collins Mysteries, which began with The Lovesick Maid and continues with The Hunsford Curse.)