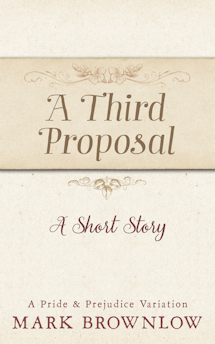 Sometimes all it takes is a few pages to tell a story. And so it is with A Third Proposal, a vignette from the life of Mr Bennet as he returns to Meryton from a trip to London.
All is not well at Longbourn and Netherfield. But who's to blame? And can Mr Bennet save the day with his wit and wisdom?
This quick winter's tale stars our beloved head of the Bennet family, his daughter, Elizabeth, and his prospective son-in-law, Mr Darcy.
There's a cameo from another Austen character, too, inspired by a suggestion from one of my readers. But I won't spoil the surprise.
This is my first foray into the short story format with a (dare I say) rom-com approach.
In the meantime, work is underway on the second book of Mr Bennet's Memoirs. As a writer, it's like meeting an old friend again and falling back into conversation as if the intervening months were but a day.