Publisher:

Lost Opinions e.U.

Available in:

Kindle

ISBN:

978-3-903230-04-0 (eBook)
Mark's author page at Amazon
Mark's author page at Goodreads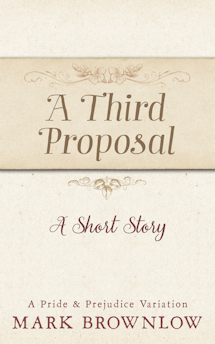 Mr Bennet and too much brandy. What could possibly go wrong?
"A delightful and beautifully written vignette of poetic quality" 5-star review at Amazon.com
"I chortled all the way through this short story" 5-star review at Amazon.com
"Highly entertaining" 5-star review at Amazon.com
Kindle: Amazon.com | .co.uk etc.
Goodreads: Book page
This short story stars Jane Austen's Bennet family in a tale of wit, wisdom, love, and brandy.
A chance encounter in an inn has unwelcome repercussions for Elizabeth Bennet's impending marriage to Mr Darcy.
And it might all be Mr Bennet's fault.
As the snow falls in Meryton, can he save the young couple's happiness?
Full of wry humour with a pinch of romance, this Pride and Prejudice variation warms the soul on a cold winter's day.