One of my other jobs is reporting on local art exhibitions here in Vienna, and last year found me viewing an exhibition of drawings by Austrian artist, Paul Flora (1922-2009).
Flora's works proved strangely captivating and must have made a lasting impression; a period of introspection led me to turn my hand to pen & ink drawing.
Aside: that thud you just heard was caused by my school art teacher's lower jaw hitting the ground.
Anyway, part of the learning process has been to study drawings by masters of the art. By chance, I found an online store selling a catalogue from a solo exhibition for Paul Flora held in Germany in 1984/1985. A bargain at under €5!
Turning the first page revealed this: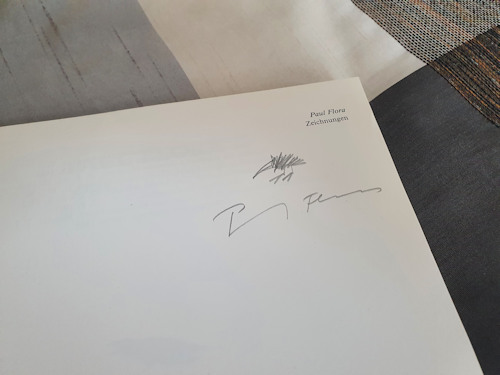 As far as I can tell, the signature is authentic. And now I have my own little Paul Flora drawing, too. An unexpected joy!
(I love signed books. They seem to create an intimate connection to the author.)