Terry Pratchett's Discworld books always leave me like an apprentice decorator in the Sistine Chapel. I stare sadly at my paint roller and a bucket of "Daffodil White" emulsion, knowing I will never get close to that level of quality.
Wit, wisdom, wordsmithing, storytelling, social commentary and downright inventiveness. All reasons to enjoy his writing.
The novels, which have sold in their millions, take place on a flat fantasy planet featuring a complex tapestry of unforgettable characters. In particular, I love the tales based in Ankh Morporkh, a melting pot of a city run by a "benign" tyrant, Lord Vetinari, of whom it was once said:
You had to hand it to the Patrician, he admitted grudgingly. If you didn't, he sent men to come and take it away.
There is lore. And magic. And good. And evil. And an awful lot occupying the bits in-between. But mostly there is humour in a world that holds up a mirror to our own. The "message" is never the main story, but it's there, tweaking your subconscious. Pratchett tackles religion, politics, economics, racism, addiction, class war and the human condition in one form or another, but never at the expense of a "jolly fun read".
He even gives a nod to Jane Austen in "Snuff", thereby combining two of my favourite authors in one: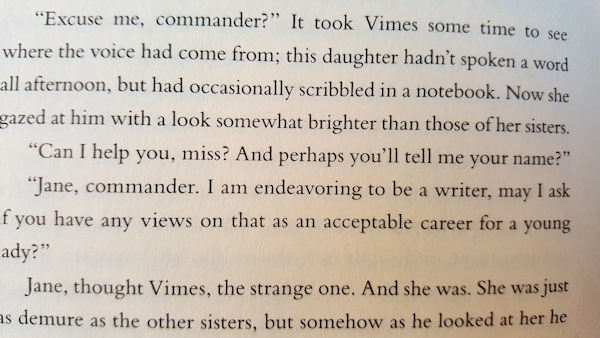 I first encountered Pratchett's books in Germany in the late 1990s. Work took me on long train journeys between Hamburg, Frankfurt and Munich, then home to Vienna. The small bookstores in the stations carried a few English-language novels, and always a Discworld tome or two. So I learned to love his world and writing in the carriages of the Deutsche Bahn. A new Pratchett became my reward for finishing a job, solace on the uncomfortable trip home with nothing but a dry railway sandwich and a bottle of water for company.
Pratchett's final Discworld novel, published after his untimely death from Alzheimer's, was The Shepherd's Crown, one of the Tiffany Aching series nominally aimed at young adults. I read it anyway, with a glass of wine, toasting and tasting every word knowing they were the last new ones I would read.
It saddens me that my favourite contemporary writer will never put pen to paper again. I can't help but wonder what further joy he might have provided if given a few more years among us. If you want to try Pratchett for yourself, take a look at Guards! Guards!. The good news is that if you like it, there are over 40 more to read.