Writing Austenesque fiction means the ghost of Jane Austen always feels near. (Hopefully not preparing some deliciously cutting remark on the impropriety of this young* man who dares play with her characters.)
Ms Austen never reveals herself, though. I'm left with the books and a coffee mug as the only sources of inspiration. So in search of more seeds for my imagination, I persuaded friends and family alike to build a little Regency time travel into a recent trip back to England.
Part 1: Dreaming spires and authors
It all began in Oxford's Broad Street, torn between the White Horse pub and the Bodleian Library. I'd like to claim literary endeavour triumphed over the brewer's efforts, but the "Women Who Dared" exhibition had to wait until after lunch.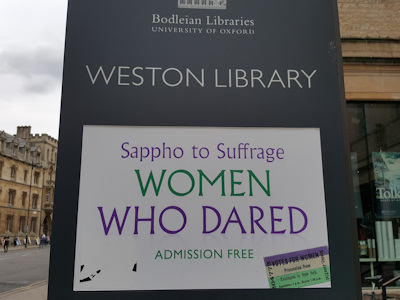 Once inside, I made a beeline for the manuscript.
The handwritten manuscript.
Jane Austen's handwritten manuscript…open to The beautifull Cassandra, a story from an early volume of her Juvenilia.
To think some 200 years ago, the lady herself had scratched at that very paper. I stood a moment, hoped a morsel of inspiration might loosen from the page, drift through the protective glass, and settle on my writing hand. Time will tell.
(The exhibition runs through to February, 2019, if you want to see it for yourself.)
Part 2: Houses big and small
A day or three later and it was off to Jane Austen's former Chawton home, which has become a lovely museum.
The actual house is a blur, now. Just a memory of feelings: gratitude at the kindness and friendliness of the staff, delight at finding my friend's book (The Longbourn Letters) in the little shop, enchantment at the gardens, embarrassment at how I look dressed as a Regency gentleman (let's just say Mrs Bennet's eye would have passed over me quickly, whatever my income).
One item remains firmly embedded in my mind, though:
Jane Austen's writing desk is the Anne Elliot of furniture, quiet and unassuming but with hidden strength. There was nobody in the room when I was there. I could have touched it…rested my hand where hers once lay…traced lines of inspiration across the wooden surface.
But I didn't.
Sadly, I'm genetically incapable of ignoring a "do not touch" sign. There is more chance of Mr Collins disagreeing with Lady Catherine. (Though I once brushed against a piano used by Franz Schubert. In my defence, it was sort of accidental and there was no explicit "do not touch" sign. I still feel guilty.)
The day finished further up the road at Chawton House, who do a sterling job researching, preserving, and popularising the work of early women writers. You can support their efforts here.
The house, gardens, and views are quintessentially English: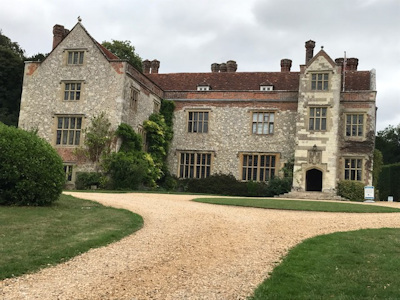 Inside, first editions of Ann Radcliffe, Jane Austen etc. peered out at me from beneath glass cases. And then there was the library, just as you imagine Mr Bennet's might look and smell, save for a distinct – and disappointing – lack of port.
I spent rather too long among the leather-bound treasures, chatting with the lovely member of staff inside about 18th-century book buying, the 95/05 P&P debate, the Chawton House collections, and much more until someone politely mentioned they were about to lock up (which is British English for "go away").
Part 3: Perambulations in Bath
The final stop on the trip was to accompany my mum on a shopping trip to Bath, one that – sadly – left little time for any sightseeing.
My mum has a prosaic attitude to such things. She greeted my suggestion that we try one of the many wonderful coffee and tea shops with approval, then insisted on the self-service restaurant in Debenhams department store. There's not a lot of Austensque inspiration inside there, believe me.
All I managed was a quick dip into the Jane Austen Centre, plus a few hurried photos of streets and buildings that conjured up memories of Persuasion and Northanger Abbey: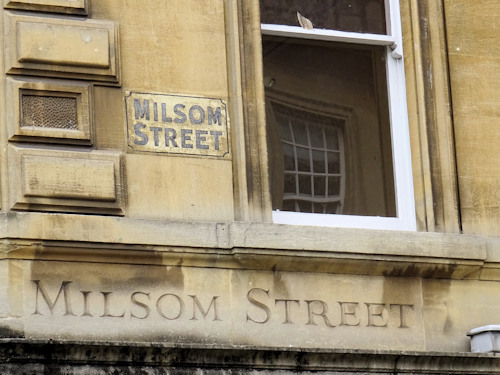 (…in walking up Milsom Street she had the good fortune to meet with the Admiral…)
(…which Mary, well amused as she generally was, in her station at a window overlooking the entrance to the Pump Room…)
And that, dear reader, was that – back home to Vienna, my books, and my coffee cup. Until 2019. Perhaps I'll be lucky and we'll make it to Marks & Spencer next time.
*when I say "young", I mean "not young"