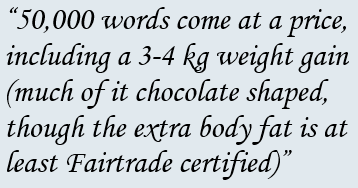 Novels don't write themselves (yet), and there's never enough time. Not with kids, a job, housework and, um, football to watch.
Which is where National Novel Writing Month comes in – you commit to producing 50,000 words in November.
Coming from the advertising world, where six words is already an essay, it was quite a challenge.
But before I drag my shattered, scurvy-ridden, Vitamin D-deficient body to the fruit and vegetable counter, here are some of the lessons I took away. (Just my experience and, of course, others will have a different one.)
1. Embrace the NaNoWriMo force
Public commitment to a goal is a well-known psychological trick to help you reach that goal. That's why I signed up for NaNoWriMo in the first place.
But the organizers (and participants) offer a lot of other support, too. For example, I picked up many useful tips just through the twitter feed.
2. Embrace the costs
50,000 words come at a price:
3-4 kg weight gain (much of it chocolate shaped, though the extra body fat is at least Fairtrade certified)
Coffee addiction (fortunately, this is also required by the authorities before they can accept my Austrian citizenship application. So silver linings)
Non-essential tasks pile up and start becoming essential
Essential tasks pile up and start becoming critical
A McDonalds loyalty card (the outlet near work is quiet and convenient)
The continuous nagging feeling you should be writing
And what did I get for this?
50,000 words that would otherwise probably not exist.
I'll take it.
3. Get approval / understanding from those around you
Buy-in from those around you lets you commit time you might otherwise not have, dampens the feeling of guilt and allows you to get away with staring moodily out of the window when there's washing to be done.
Fortunately, my kids aren't troubled by anything that doesn't stop them gaining levels or likes, and my wife has far more belief in me than is justified.
Understanding also breeds encouragement, which provides additional motivation. Knowing a friend was watching my word total was a big motivation to keep that total ticking over.
4. Preparation is vital
NaNoWriMo means you only have a set number of hours to work with, so the equation is simple: the more time spent researching and plotting, the less time spent writing.
My plots tend to reveal themselves as I write, but I forced myself in October to outline:
Major and minor characters
Locations
Key plot requirements (e.g. changing relationships between characters)
A series of "scenes", each with just a one or two-line summary
It was enough to get me through November (BTW I use Scrivener software for organizing writing projects and the actual writing).
5. Fight the urge to edit
I wrote a lot of rubbish. And I will have to sift through the rubbish to find the good bits.
But at least I have something to sift through.
That's the point.
If I stopped to polish I'd have a wonderfully-written 1,000 word essay and no chance of finishing a novel.
Through the time commitment and constantly having the novel "top of mind", the plot came together, characters developed, surprises popped up, and there's a big slab of stone I can now chisel away at to reveal the (hopefully) beautiful statue within.
6. Do not stop at daily limits
Foolishly, I wrote 1667 words on Day 1 and then stopped, poured myself a drink and paraded in triumph around the living room.
Then I worked out that writing 1667 words each day meant, well, you had to write 1667 words each day.
No days off, no getting sick, no slacking.
So I wrote as much as possible, when it was possible – putting words in the bank for later.
I got to take a couple of weekends off (and finish three days early). Getting ahead of schedule took the self-imposed stress off and helped quieten that "you should be writing" whine.
7. Use the little spaces in your day
Every word is one more step toward the finishing line. Fifty words snatched on the smartphone, 100 before bed, 200 while you wait to baste the chicken.
8. Don't be intimidated by others
On Day 4 of NaNoWriMo, I already had people telling me they were finished.
I had to fight the temptation to prostrate myself before them and cry "I am not worthy".
But you don't need to measure up to anybody. The only competition is with time, self-doubt, the elusive inspiration fairy, the creativity gnome, and the little voice that goes "wouldn't you rather be watching Poldark?" (no, we're saving the DVD for Christmas).
9. Exploit your mood
One of the conclusions I pulled from Mason Currey's review of the daily rituals of great artists is the need for regular commitment to the creative task.
That commitment – sitting down and just writing, every day – drives progress in itself. But inspiration is not always at home when, for example, you're tired, angry or depressed (or all three after an election).
So to maintain the commitment, I aligned the writing with the emotion. If I was tired, depressed and really unwilling to tackle the task in hand, then I wrote a scene where the protagonist was similarly challenged. It turned unhelpful emotions into a good thing – a source of inspiration and creativity, rather than a barrier to either.
10. Enjoy it
Sometimes NaNoWriMo felt like a difficult birth – painful and frustrating and you catch yourself wondering if you made the right decision. But finishing was pretty good (congratulations Mr Brownlow, it's a draft!) and there are moments to revel in.
When you break through a wall and the words flow like quicksilver. When you fall in love with a character. When you lose yourself in the writing and "wake up" with a battered keyboard and a big chunk of text. When you see the sparkly jewels among the detritus.
Whatever happens next it was worth it, and I'll do it again in 2017.