It's a question I get asked a lot.
Which is odd, because it's not as if Ms Austen is undiscovered or underrated.
Nobody ever thinks to ask why I like novels by Terry Pratchett or Mark Lawrence. Or football. Or twiglets. Or even Poldark. (Actually, people do wonder about twiglets.)
So what people are, perhaps, really asking is…what does a man like about Jane Austen's novels?
I can't speak for an entire gender, because we're "all different", but these are my reasons…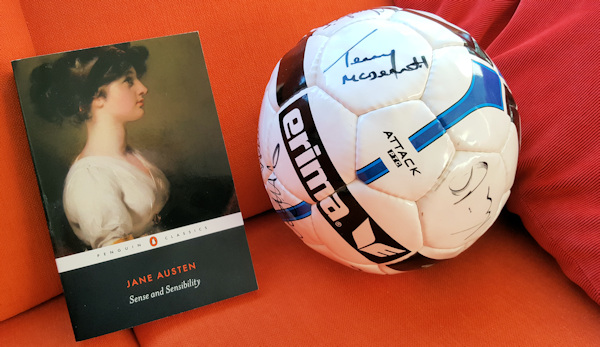 The humour
I came to the books via the TV adaptations and was surprised (shocked) to find the witty dialogue lifted straight from the original. And the humour is often as dark and biting as anything you might find in 21st century England. But then, this is the lady who wrote in a letter to her sister:
Mrs Hall of Sherborne was brought to bed yesterday of a dead child, some weeks before she expected, ow[e]ing to a fright. I suppose she happened unawares to look at her husband.
The characters
Who can't appreciate the horror that is Mr Collins? The loyalty of Captain Wentworth? Or the strong women that produce such glorious moments as Darcy's first proposal – a sword duel without the "s".
I like to think Elizabeth Bennet is on a line that leads directly to Ellen Ripley. Elinor Dashwood, too, holding it together for the sake of others, despite her own grief and disappointment:
What do you know of my heart? What do you know of anything but your own suffering. (Sense and Sensibility)
And, if I'm honest, I see a tiny bit of myself in Henry Tilney's wit, Mr Bennet's jaded cynicism, and even Mr Collin's love of vegetables. Regrettably, the only thing Darcy and I have in common is our nationality.
The romantic story
Curiously, I still feel an unnecessary tug of embarrassment writing that headline. I grew up in an environment where males were largely defined by their ability at rugby, and had their sensitivity surgically removed on entering school.
Gentle romance with humour, intelligence, a good story, and other issues going on around it.
And I'm a sucker for a happy outcome in a world that seems to have fewer with each passing election. Even if not every baddie gets their comeuppance – cough, Wickham, cough – the people we root for largely find their way together in the end. (My wife once got me to watch Atonement by claiming it ended well. That was not a good day.)
Basically, I like a nice story, well told. So, really, the answer to the question "Why Jane Austen, Mark?" is a simple one:
The person, be it gentleman or lady, who has not pleasure in a good novel, must be intolerably stupid. (Northanger Abbey)