It seems 2019 is the year of serendipity. After some inadvertent Austen encounters in the UK, another one happened back home in Austria.
I bumped into Mrs Bennet.
(Otherwise known as actress Alex Kingston, who played Mrs B in 2008's Lost in Austen mini-series.)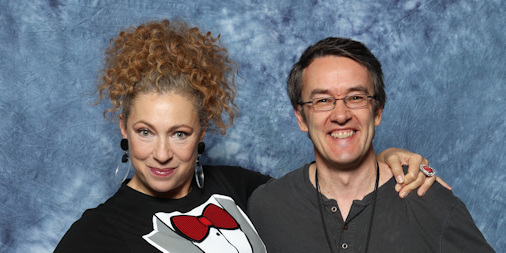 To be fair, this was no accident. Ms Kingston was a special guest at Vienna Comic Con. In the autograph and photo queues, about 99% of people were there because of her role as River Song in the SciFi series, Dr Who. Around 1% were there for the Austen connection.
I was the 1%.
She was wonderfully open and friendly. It was like meeting an old acquaintance and we chatted about her home and schedule, Vienna, and Christmas markets.
Oh, and that broad smile in the photo is actually a mixture of joy and embarrassment. As a middle-aged Englishman, rubbing shoulders (literally) with a celebrity had me blushing like Jane Bennet at the Meryton Assembly.