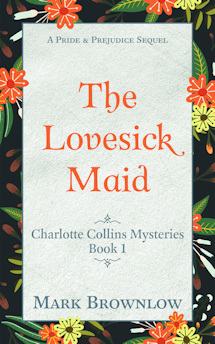 Ever wonder what happened to Charlotte Collins after she married the delightful Mr Collins?
Well, wonder no more…Charlotte is the heroine of The Lovesick Maid, a short novella just published for Kindle and Kindle Unlimited only.
We know she's intelligent and practical, and those are exactly the characteristics Charlotte needs to solve a cozy little village mystery. One of the Rosings maids is sick, but all is not as it seems (it never is).
The book features familiar characters from Pride & Prejudice, like Lady Catherine and (unfortunately) Charlotte's husband, but also a host of new characters and locations that bring Hunsford and Rosings to life – above and below stairs. There's a pinch of romance in there, too.
It's not long – just 88 pages or so on your Kindle. The book is meant as a quick afternoon's diversion, curled up in an armchair with a spot of tea and a biscuit or two (or three).  I'm working on the next in the series, when Mr and Mrs Darcy come to visit, and…well, you'll have to wait and see.